LATEST NEWS
CONTACT US
ADD:
TEL: 086-18682010696
FAX: 18682010696
E-mail: info@moskyaudio.com

> Power Supply-Internal transformer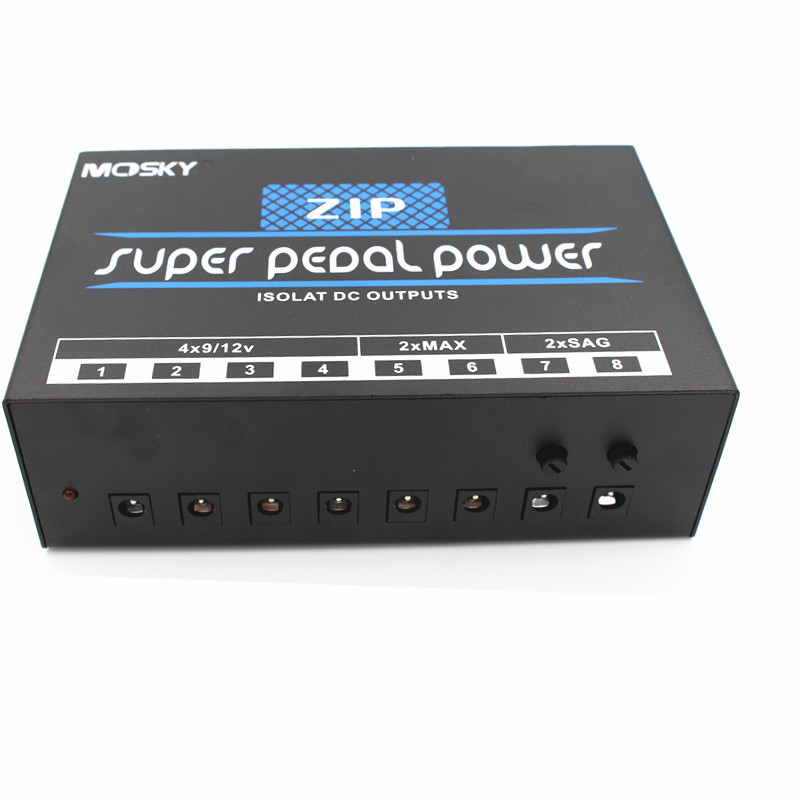 ZIP Pedal Power
Product Model:MPP-04
Colour:Black
Type: Pedal Power Supply
Product description: Internal transformer-Pedal power supply
PRODUCT INTRODUCTION
ZIP Super Pedal Power
Input
120V 50/60Hz (North America model)
100V 60Hz (Japan model)
230V 50/60Hz (Europe/Australia model)
Built-in R-transformer,8 complete isolation, filtering and stable output part, also very quiet.
Output
DIP Switch:

NORMAL
Output DC Voltage Max current
1-4 (ACA) 9V 100MA
5-6 9V 300MA
7-8 9V 100MA
DIP Switch:

ON
Output DC Voltage Max current
1-4 12V 100MA
5-6 12V 300MA
7-8(SAG) Adjustable 4V-9V 100MA
Filter, regulate, isolate, and protect!
9/12V (x4) – Standard 9V and 12V Boss ACA
With each one of these four outputs delivering 100mA, you can easily power any 9V battery-operated pedals. Boss pedals that specify the PSA adapter operate at 9V like most other pedals.
Boss pedals that require the ACA adapter operate at 12V which can be selected via switches underneath the Pedal Power 2 Plus. Any one of these outputs can be individually selected to run at 9V or 12V.
9V (x2) – High Current 9V and Line 6 Modelers
These two outputs each deliver 300mA allowing you to run high current draw effects like the Boss DD-20 Giga Delay or Line 6 DL4 Delay Modeler. Via switches underneath the Pedal Power, these two outputs can be separately configured for regulated (Boss Twin Pedals) or unregulated (Line 6 Modelers) power allowing you to run both units if so desired. These outputs can also power any standard 9V effects as well.
9V (x2) – Standard 9V With Battery Sag Control
These outputs each have an available 100mA of power, but also allow you to SAG the voltage from roughly 4V to 9V. This feature can be enabled via the bottom panel switches.
The SAG control is mostly useful for transistor-based fuzz, octavia, and distortion circuits, as most modern opamp designs are minimally affected by variations in supply voltage.
We recommend turning SAG off if you're going to run digital pedals like delay, chorus, and reverb
.